The Annual MTV Movie Awards was held on April 14th, hosted by Pitch Perfect's funny lady Rebel Wilson. This is a major problem that I had with the show, they previously had A List Celebrities like Will Smith, Samuel L Jackson, Mike Myers and Ben Stiller just to name a few. This year, Rebel Wilson. Although I appreciate the idea of highlighting new talent, I personally didn't find her funny at all, but that's just me
Although I usually enjoy watching the awards show, this year I thought that the number of celebrities that attended were a lot less than usual, and also that the show itself didn't live up to previous years. The Celebrities that did attend, weren't A List Celebrities either with the exception of Brad Pitt, Bradley Cooper, and the cast of Star Trek. With respect to the fashion...I have to admit that I had a lot of dislikes and very few likes.
Kim Kardashian & Kylie Jenner
I have a love hate relationship with this duo. I'm extremely pleased with Kylie's look, neutral head to toe is a big trend this Spring/Summer and she looks sophisticated and age appropriate. Love it. Kim however, I think she's been struggling to find Maternity wear that she also thinks is trendy. I don't mind the dress, especially compared to other fashion faux-pas she's had recently, but I think the tassel necklace pointing straight to the baby bump isn't flattering.
Photo Credit: Coco Perez
I don't even know this woman's name. I had to look it up, hence my rant about the D- List Celebrities in attendance. Believe or not, i love this dress, edgy, fun, cool. The shoes are too strappy, i would've done a simple black pump to compliment such a edgy dress. The head wear is just weird, and not even in a good way.
One of the few looks I liked was Selena Gomez's gold fringe mini with an edgy fish tail braid. It's on trend, young and fresh. Perfect dress, perfect shoes, perfect makeup, perfect hair. Thumbs up in my book.
Snooki looks the best I've seen her. Ever. Especially since she just gave birth not to long ago. Love the hair and makeup, but the dress is too formal for the MTV Movie Awards. I wish she'd opted for a mini instead with those same high pumps which would have added some length to her petite frame.
Emma Watson is my pick for Best Dressed at the MTV Movie Awards this year. Love the dress, the hair, the shoes. I wish she had put on a little more makeup but, still looks great.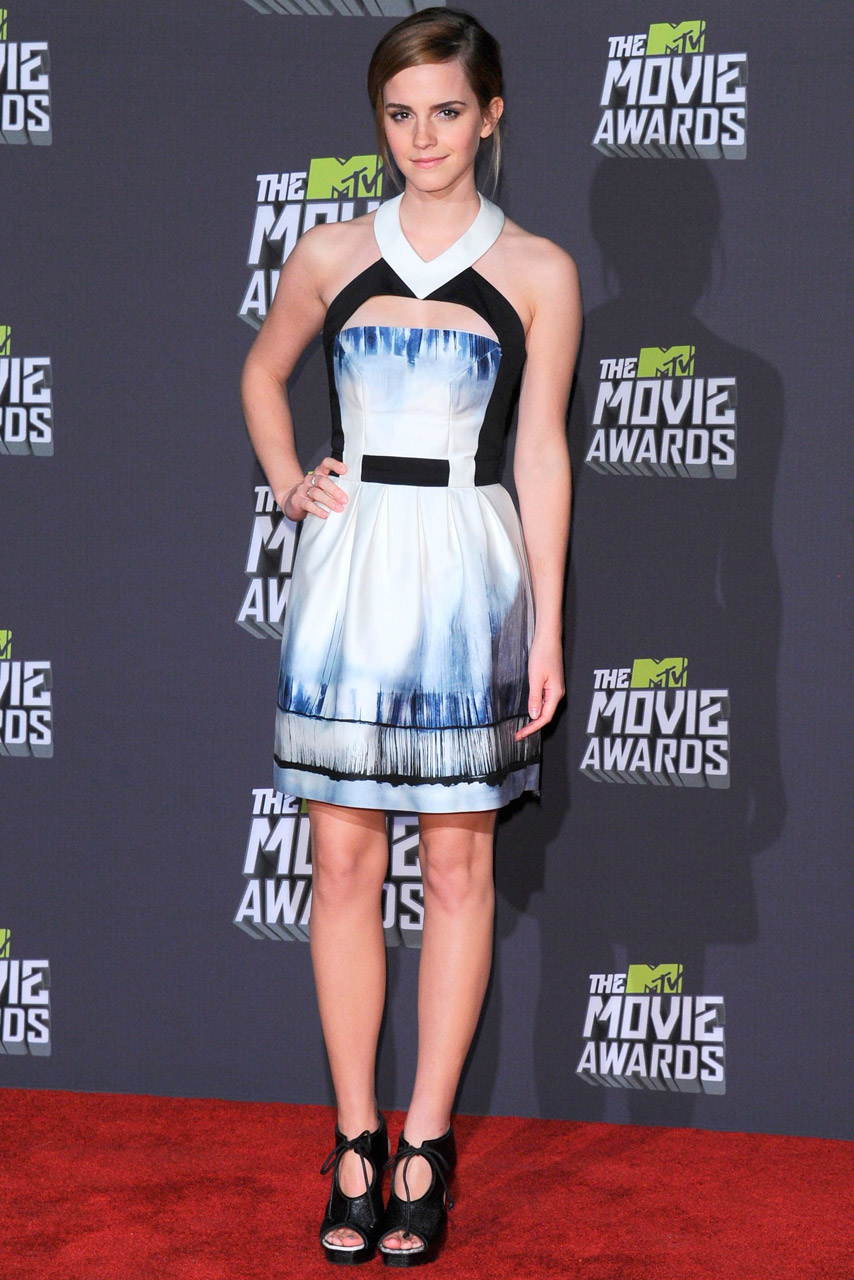 Kerri Washington is beautiful. Why on earth she would choose this dress is beyond me. It doesn't flatter her beautiful figure and that yellow taffeta train is just awkward.
I love Brittany Snow's Hair and makeup. Maybe this dress is too couture for my humble self to appreciate, but although I like the color on her, I don't like the dress.
Does Kylie Minogue age at all?? Her body is amazing, hair and makeup so natural. The dress, with the sheer panel showing her tummy, boxy cut and black pointy pumps is a thumbs down for me. It looks like she pieced together a dress using items from NASA's Space Program's scraps.
This is the chick from Fast and the Furious, I don't even know her name. She's beautiful and on trend with the neutral head to toe look. Don't know her but love the outfit.
Zoe Saldana always takes risks with her fashion choices, and this dress is definitely a risk. Can't say that it's a risk that I like though. It's a bit confusing to be honest.
Photo Credit: Just Jared
There you have it, my Fashion Recap of the 2013 MTV Movie Awards. What did you think about the show and the fashion? Sound off in the comments below!