Golden Globe Awards 2013, TriniStarGirl Picks
Left to Right: Jennifer Lawrence, Anne Hathaway, Kate Hudson, Jennifer Lopez, Claire Danes
Least Favorite Dresses:
#1 Jennifer Lopez
Sigh, I really like Jennifer Lopez as a fellow curvy gal and also because I think she has an amazing body for her age. However, I feel like I've seen this on her before, she wore a black Zuhair Murad dress for the 2011 American Music Awards
And yet another similar Zuhair Murad dress at the 84th Academy Awards and again and again...
I'm all up for sticking to designers whose clothing fit well or match your personality. However I would have really loved to see her in some color and some other silhoutte.
#2 Eva Longoria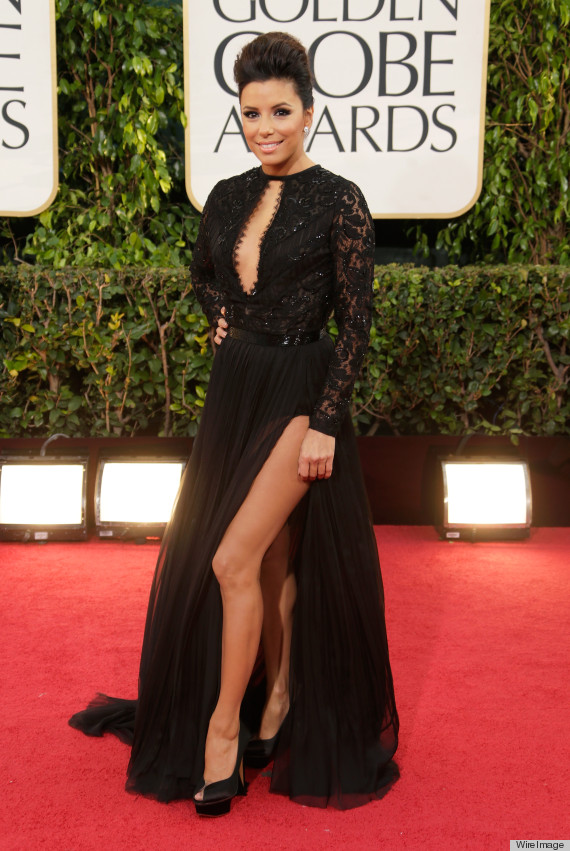 There are many reasons why I dislike this dress. For one, Angelina Jolie pulled the left leg exposed look last year, I think the high leg slit coupled with the low neckline and sheer black lace is trashy. I also think this dress may have worked on someone a bit taller.
#3 Rosario Dawson
I really hate this color on Rosario, I wish she would have chosen a richer color that would've accented her beautiful skin better and also, I would've liked to see her hair pinned up to show off the beauty of the neckline.
#4 Halle Berry
I don't even know where to begin, but the different prints, plus the leg slit plus the fact that she's looked better pretty much sums it up.
Best Dressed Women:
#1 Kate Hudson
Amazing, that's the word I would use to describe Kate in this Alexander McQueen dress. Right on trend with the black and gold, but the silhouette helped shape Kate's tomboyish figure and the deep V neckline wasn't trashy as Kate is very petite on top.
#2 Jessica Alba
This girl can dress. From her everyday looks to her soiree gowns, Jessica Alba knows how to dress her body and this coral gown is no exception. Perfect hair and makeup.
#3 Sofia Vergara
Sofia is so sexy and this beautiful sequined gown really accentuates her curves. She reminds me of a younger Catherine Zeta Jones in this number.
#4 Salma Hayek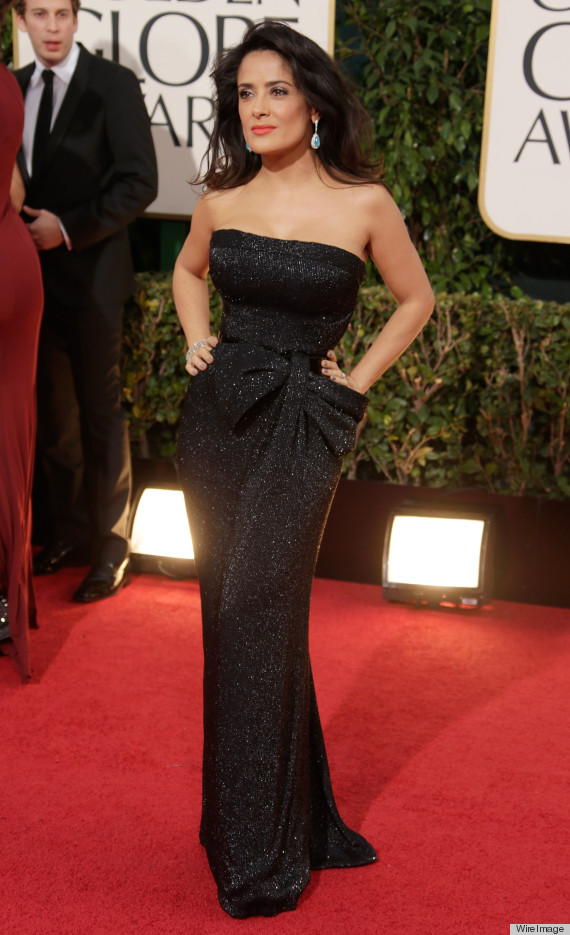 This sparkly black gown fits Salma like a glove! I love that the neckline is tasteful and doesn't quite show her clevage and the turquoise earrings are my favorite accessory for the night.
Riskiest Choice: Lucy Lui
Best Dressed Men:
#1 Bradley Cooper..such a cutie
#2 Ben Affleck in a navy 3 piece Gucci Tuxedo. He was dressed like a winner.
#3 Leonardo Dicaprio
Best Dressed Couples:
#1 Daniel Craig & Rachel Weiz
#2 Anne Hathaway and her hubby Andrew (aren't they just the cutest?)
#3 Ben Affleck & Jennifer Garner
Did any of your top looks make my list?